I'm a few days late on this, but it took me this long to come down from my high of excitement for new RuroKen. As the Live Action RuroKen starts it's development, we'll be presented with a new anime OAV/Movie debuting in Japanese Theaters this December.
The new 2 part series, now called "Shin Kyoto-hen", or New Kyoto Arc for you who are not scripted with moon-speak, will be a retelling of the original "Kyoto Arc" from Nobuhiro Watsuki's Rurouni Kenshin manga. This will be the 2nd time this arc was animated, first being the original T.V. series' second season, also known as "The Golden Age of Kenshin." This retelling will be an all new animation featuring the Kyoto Arc from the point of view of Misao Makimachi, a Oniwabanshu Ninja who is looking for her group's leader.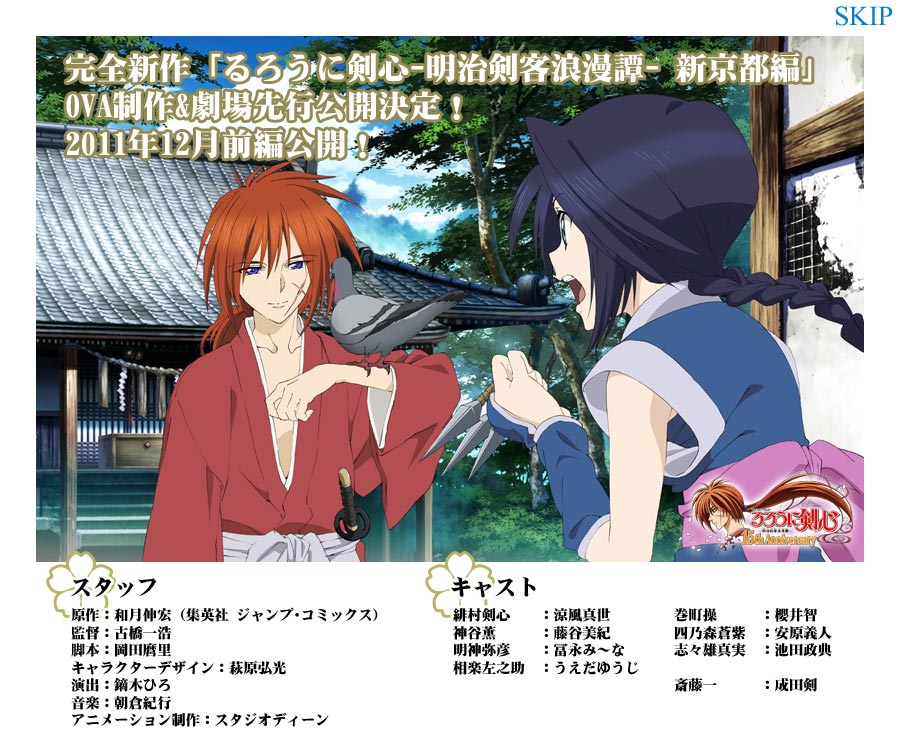 Returning to the cast and crew is the T.V. series, movie, and OAV director Kazuhiro Fuzuhashi & musical composer Noriyuki Asakura. New crew members include writer Mari Okada (
Toradora, Rozen Maiden
), character designer Hiromitsu Hagiwara
(Key animation for Full Metal Alchemist T.V.),
and finally episode director Hiro Kaburaki
(Sengoku Barara, Welcome to the NHK).
The entire original voice cast, including one of my favorite voices in animedom, Mayo Suzukaze. [Even though she hasn't done much else, she can always sex me up with her Kenshin-voice. Does that make me gay? Or just bisho-curious? Mayo is female, but Kenshin isn't.. but he's pretty like a girl. I should really stop dreading over this.] The one exception to the voice cast will be Hajime Saito's original voice actor Hirotaka Suzuoki, who unfortunitly passed away in 2006 due to lung cancer. He will be replaced by Ken Narita, whom old school anime fans would know for voicing
Tetsuya in Fushigi Yugi
and newer anime fans would know him as the over-the-top
Jeremiah Gottwald from Code: Geass.
Don't fear hard-core RuroKen fans, as Mr. Narita has played a Shinengumi member before in a
Last Blade Radio Drama.
Not that many of you know what I'm even talking about.
This is abosolutely something to look forward to, despite the fact that I would really like to see the Jinchu (Revenge) Arc animated. Hopefully these new OAVs will open the way to animating the Revenge Arc. We get so much greatness, not only from Kenshin but also get to see Sano reclaim his badass & Yahiko starting to develop into a badass. Not that I rate the Revenge Arc above Kyoto, but I do enjoy it greatly. This upcoming OAV (and soon Live-Action move) really gets my RuroKen blood boiling.