How has the return trip been T.O.M.? Let's find out with a quick follow-up from a previous review for the return of Toonami.
It has been a couple months sense Toonami's brilliant return to T.V. as Adult Swim's Saturday Evening Line-up. We left off with an almost eternally produced anime, two new series, and some reruns of some classic titles. Now 12 weeks later, we see that there are some changes in the lineup. We've also confirmed the following:
-Deadman Wonderland breaks 1mil viewers
-The Deadman Wonderland OAV will not play on Toonami as of yet.
-FLCL will
not be on Toonami,
despite rumors.
-TOM mentions reruns are coming, but hold out for some great things.

One Hell of a Cartoon.
First let us start with the series that are leaving the late-night block:
Deadman Wonderland & Cowboy Bepop.
I'm glad to see that they are taking Cowboy Bepop if only long enough to run another series. I love the crew of the Bepop as much as the next person, but it's time to let Spike and the crew take some time off. I'm very upset to see Deadman Wonderland stop though. Much like Highschool of the Dead, Berserk, and the original Hellsing T.V. series Deadman Wonderland suffers from a lack of more produced episodes. Maybe it is because the manga has also been on hiatus for the last few years. Maybe the anime didn't do well enough if Japan? I'm hoping we see a second season one day. I'd even settle for an OAV series or
Brotherhood
like series just to watch how Ganta's adventures turn out.
Now on to the upcoming lineup:
Bleach
Like I mentioned before, I have a very hard time getting into Bleach anymore. Everything seems to be blurring into one giant arc that contently repeats itself and I don't know how much longer I can take it. Music is still great, so I guess I have to give them credit for catchy openings and endings.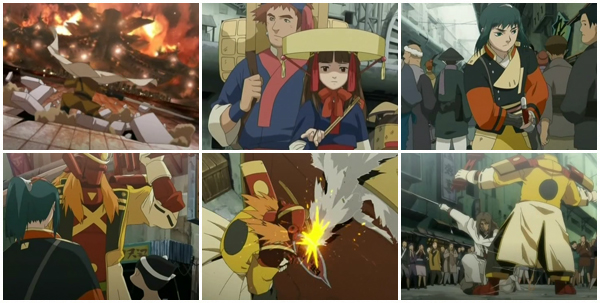 Samurai 7
Funimation brings the anime remake of the original
Seven Samurai
to [AS]'s Toonami. Sadly I've owned this series on BluRay for almost a year now thanks to a bargain bin and have yet to watch past episode 2. Maybe they will keep me interested being on TV now? I sure as hell hope so.
Casshern Sins
We're halfway through Casshern's tale of emo robo-humans and bad-ass puppy-bots. The dark feel of Casshern woven with well designed battles has slowly become a boring trip down emo lane. If I see Casshern look down and to the side one more time, I may shoot myself. I hope the second part of the series really starts to pick up. If not, I may not have anything to talk about once it's over.
Fullmetal Alchemist: Brotherhood
Alchemy's favorite brothers are still working their way to find a way to get each other back in their original bodies. Brotherhood is a great series that only suffers from a few
VA's phoning in their rolls.
Brotherhood is quickly spiraling down to it's climatic finale that is sure to keep people on the edge of their seats.
Ghost in the Shell: Stand Alone Complex
Our favorite Major is still kicking ass and taking names. Great music, beautiful animation, and insanely good voice acting keeps this series going. Expecting them to finish off the 2nd season and start over with the first, and more popular Laughing Man Arc.
Eureka 7
As T.O.M. mentions, it's lucky 7s at Toonami. Previously played on [AS], Eureka 7 returns with hopes that it will not only draw in new anime fans but bring back old fans. I missed a majority of Eureka 7's original run so this will be a treat for me.
A great improvement to the lineup with hopes that they will keep the fans coming back for more.